R&H's 40th Anniversary Party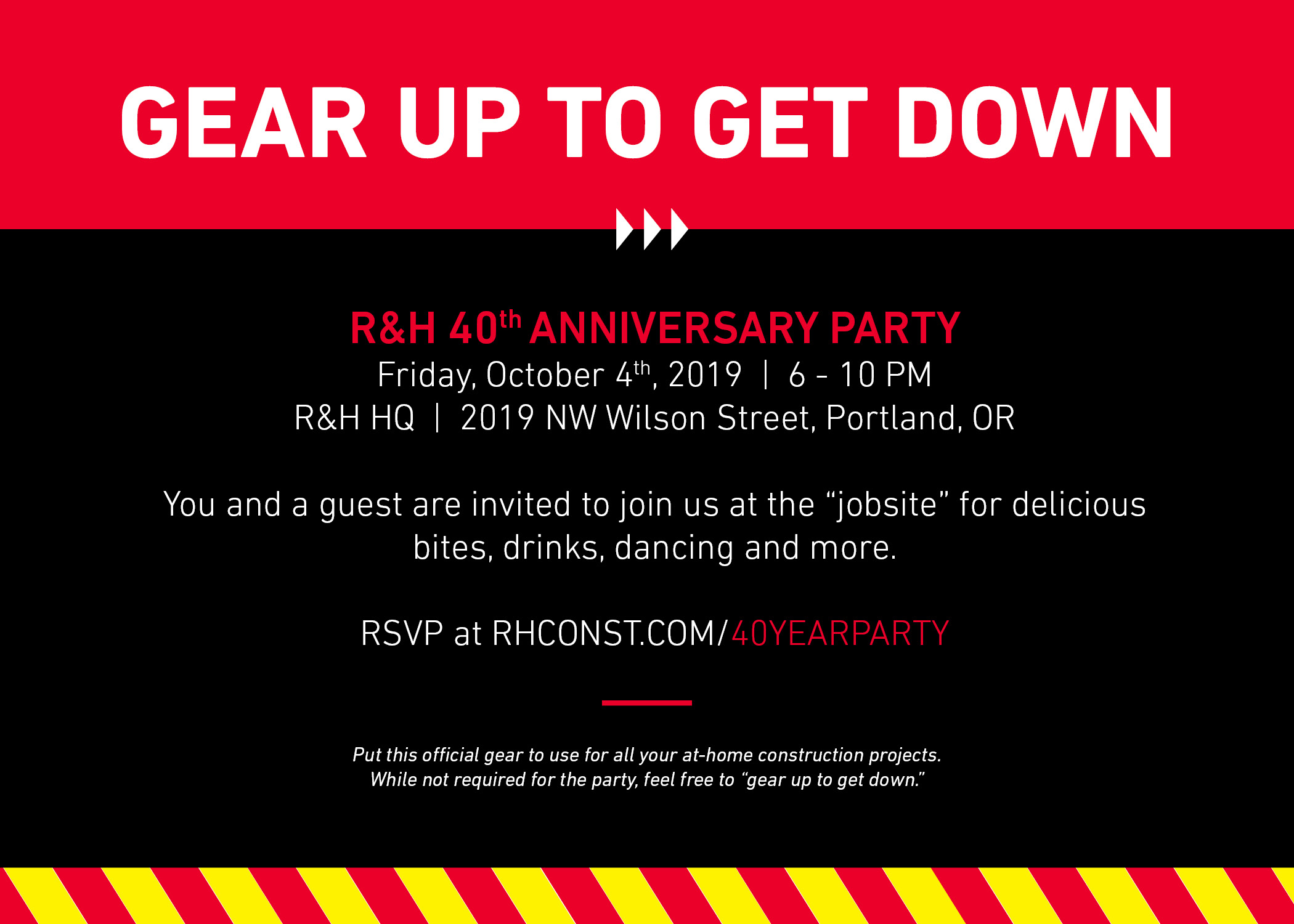 RSVP HERE!
The details:
Friday, October 4th, 2019  |  6 – 10 PM
R&H Construction Headquarters
2019 NW Wilson Street, Portland, OR
Note: While R&H will have limited parking available, we encourage using ride-sharing apps or Tri-Met for ease.
R&H Through the Years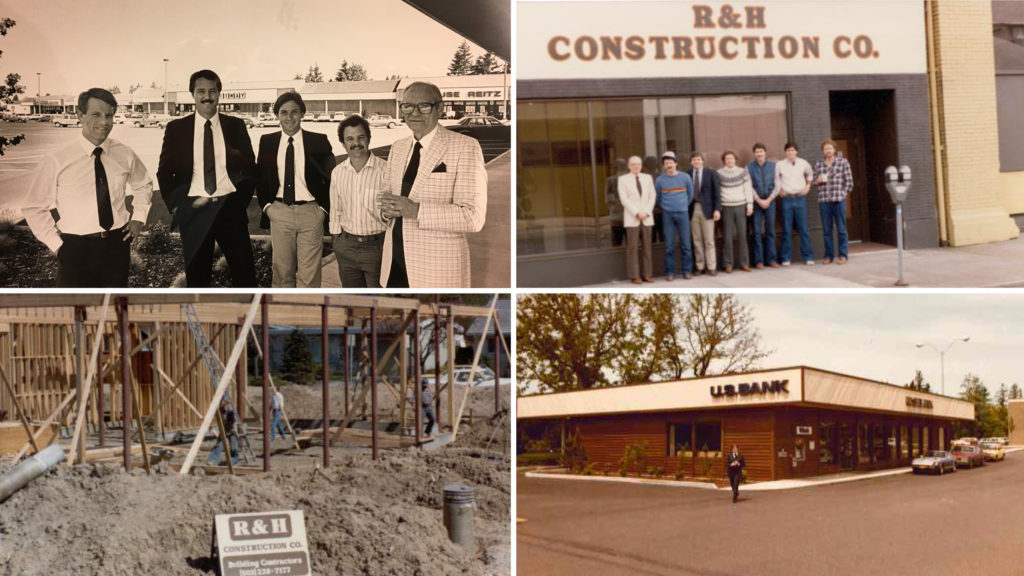 1979 – The Beginning
R&H Construction was founded in 1979 in Portland, Oregon. The company was originally formed as a subsidiary of Mercury Development, to serve as Mercury's tenant improvement general contractor when other construction companies were too busy. As our company, our portfolio and the size of our projects grew, R&H Construction spun off from Mercury Development and became its own entity in 1980. R&H continued to perform work for Mercury Development for years to come.
Our first office was located in downtown Portland's Old Town neighborhood, near NW 5th and Flanders. We moved into that office in 1979 and continued to grow there until moving to SW 16th and Taylor Street in 1994.
R&H's first project was installing a mailbox at an existing retail center. Other early projects included buildouts of fitness centers, grocery stores and shopping centers. Our first ground-up project was the construction of the US Bank in Tualatin, pictured to the right, which still stands today!
Fun fact: R&H stands for: R – Robert, Robert Fulton, the company's founder and former CEO; H – Henry, Ms. Henry, the company's bookkeeper at the time of R&H's founding in 1979.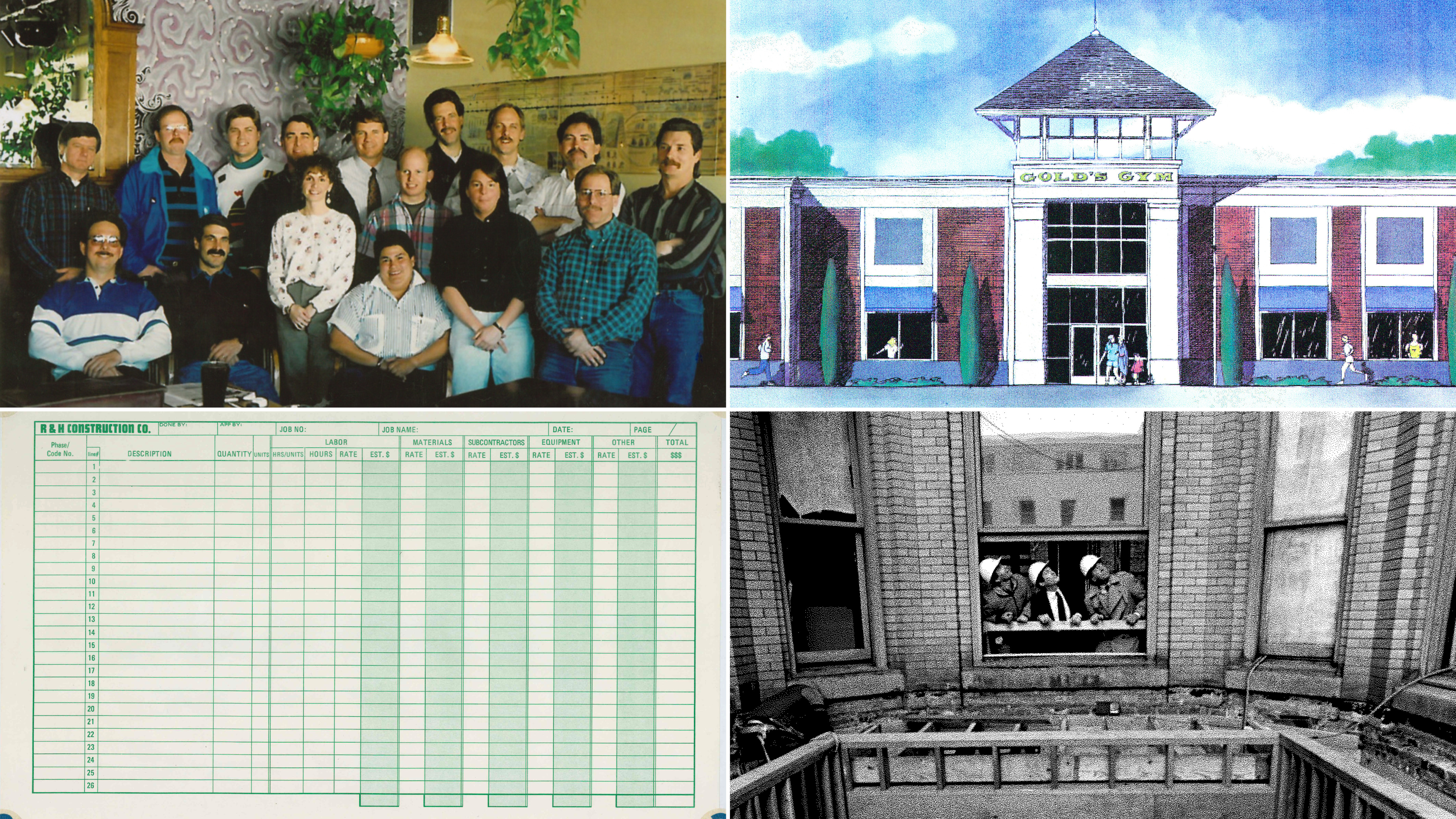 1980's
In 1982, R&H formed our first interiors-focused group to work on tenant improvements, remodels and renovations, allowing team members to specialize in this unique and complex form of construction. Today, our Special Projects & Interiors Group consists of 30+ building experts that have dedicated their careers to this work and thrive in solving our clients' problems, meeting fast-paced schedules and delivering over 300+ quality projects each year.
1985 marked the beginning of R&H's formal Safety Program, which focused on preventing injuries and eliminating hazards on the jobsite. At this time, we hired our first Safety Director, began a Safety Committee and started hosting our famous annual Safety Banquets. Safety became a core value of the company and remains our #1 value today.
Notable projects of the 80's include historic renovations of the 200 Yamhill, Campbell Court and Skidmore Fountain buildings as well as the ground-up construction of the Glisan Street Retail building, currently home to 23Hoyt. At the same time, our Interiors team was underway on a series of Gold's Gym buildouts and the construction of the Louisiana Pacific Tower Club, located in the US Bank Tower.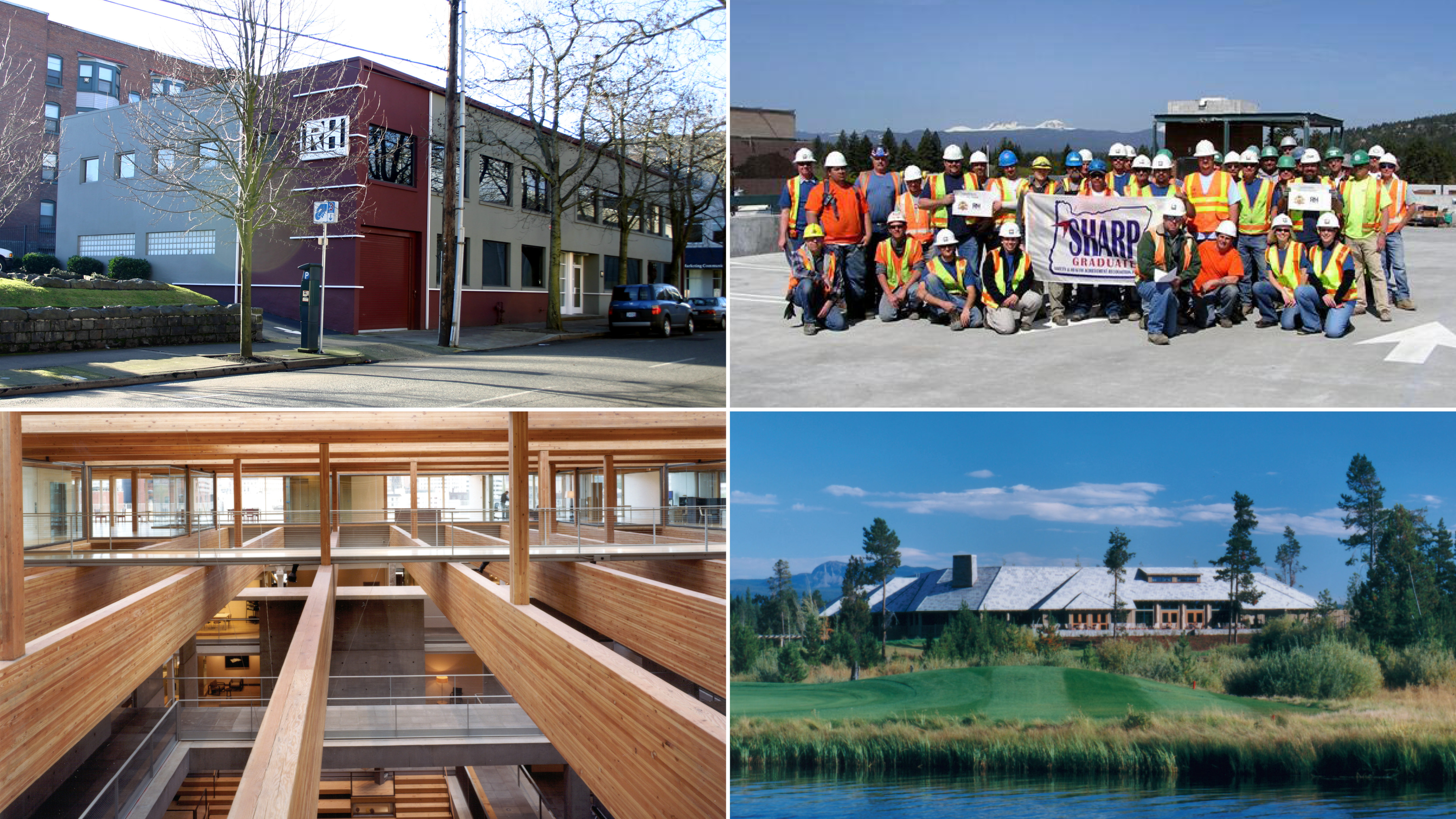 1990's
Following rapid growth in the 1980's, the 1990's brought exciting changes for R&H Construction. In 1994, R&H left Old Town and traded our first office for a new office on SW Taylor Street, which served as our headquarters for 25 years. The former-bank offered much needed space, room for amenities and opportunity for more growth. R&H grew from 125 to 235 employees while in this office.
In 1997, R&H became the first general contractor to receive OSHA's Safety & Health Achievement Recognition Program (SHARP) award. The SHARP award recognizes companies with exemplary safety programs. Receiving this award was a great honor and a proud reflection of our commitment to safety.
In the mid-nineties, R&H was hired to construct our first project in Central Oregon: Crosswater Resort's 20,000 s.f. luxury clubhouse. In 1999, R&H officially founded our Central Oregon office, which is celebrating its 20th anniversary this year. R&H Central Oregon is based in Bend but serves clients across Central Oregon and beyond.
Other notable projects from the 1990's include the historic renovation and buildout of Wieden + Kennedy's Pearl District headquarters, our first brewery projects – production expansions for Widmer Brewing and Portland Brewing – and the construction of Langdon Farms' and Pumpkin Ridge's golf course clubhouses.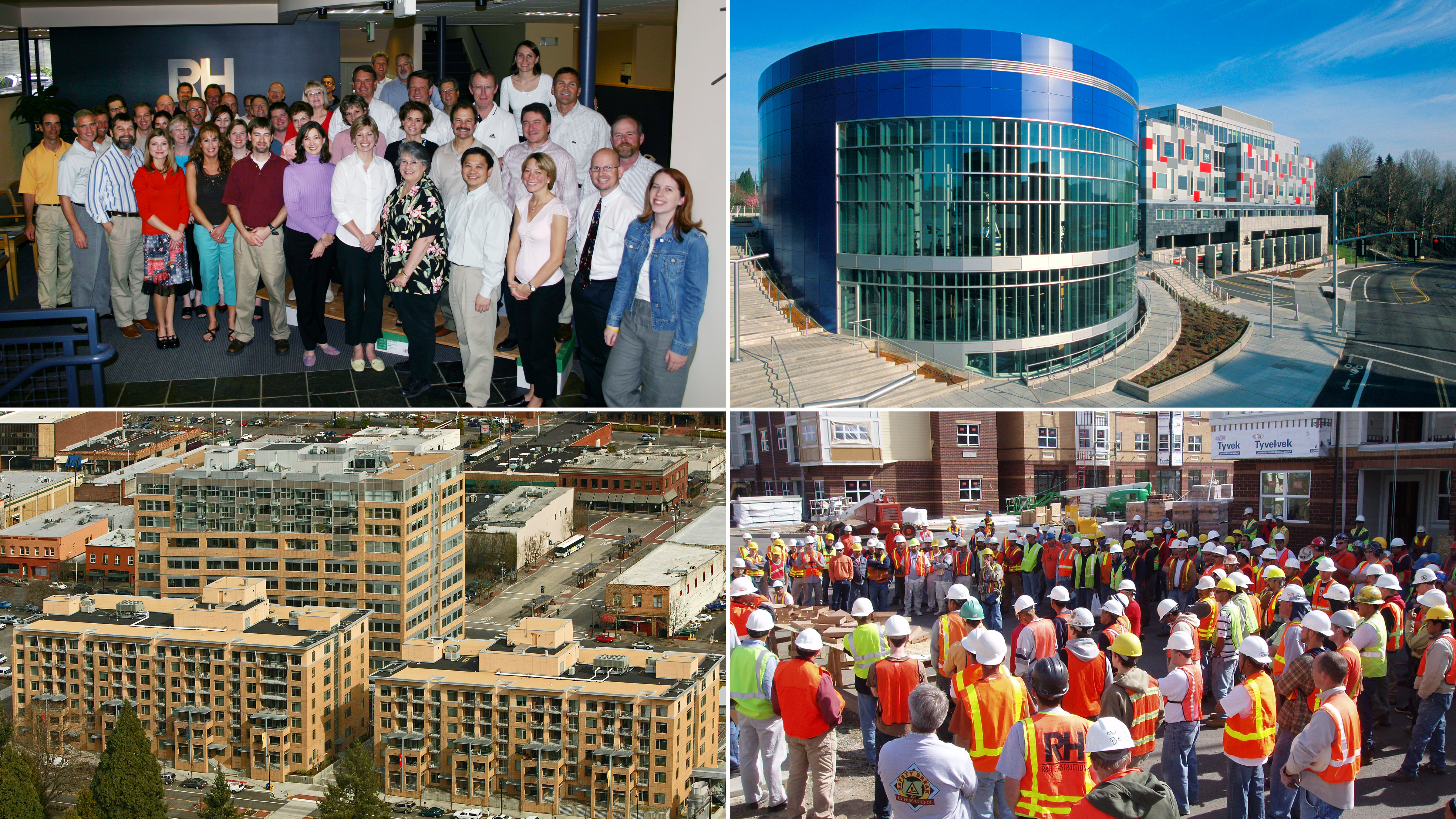 2000's
In the 2000's, R&H built some of our most well-known projects, received several exciting awards and achieved many significant milestones.
In 2002, R&H created our Financial Institutions Group (FIG), which focuses on construction projects of all types and sizes for our bank and credit union clients. Since its founding over 15 years ago, our FIG group has completed over 300 bank and financial institution projects!
In 2003, our team completed construction of our first high-rise project: Vancouvercenter. This development spans two city blocks and incorporates three independent buildings, including one 11-story building, linked at grade by a common plaza, all of which sits atop an 800-space, three-level structured parking garage.
2004 marked the 8th consecutive year that R&H was honored with an OSHA SHARP safety award, the most awards received by any general contractor to this day, as well as the year we officially graduated from the SHARP program. This remains one of our most proud achievements in our 40 years of business.
During the 2000's decade, iconic Portland projects crafted by R&H include adidas' North American Village and Ziba Design Headquarters in the Pearl District. During this time, our Special Projects & Interiors group also completed construction of ten New Seasons Market locations as well as projects for Nike, Advantis Credit Union and Nordstrom.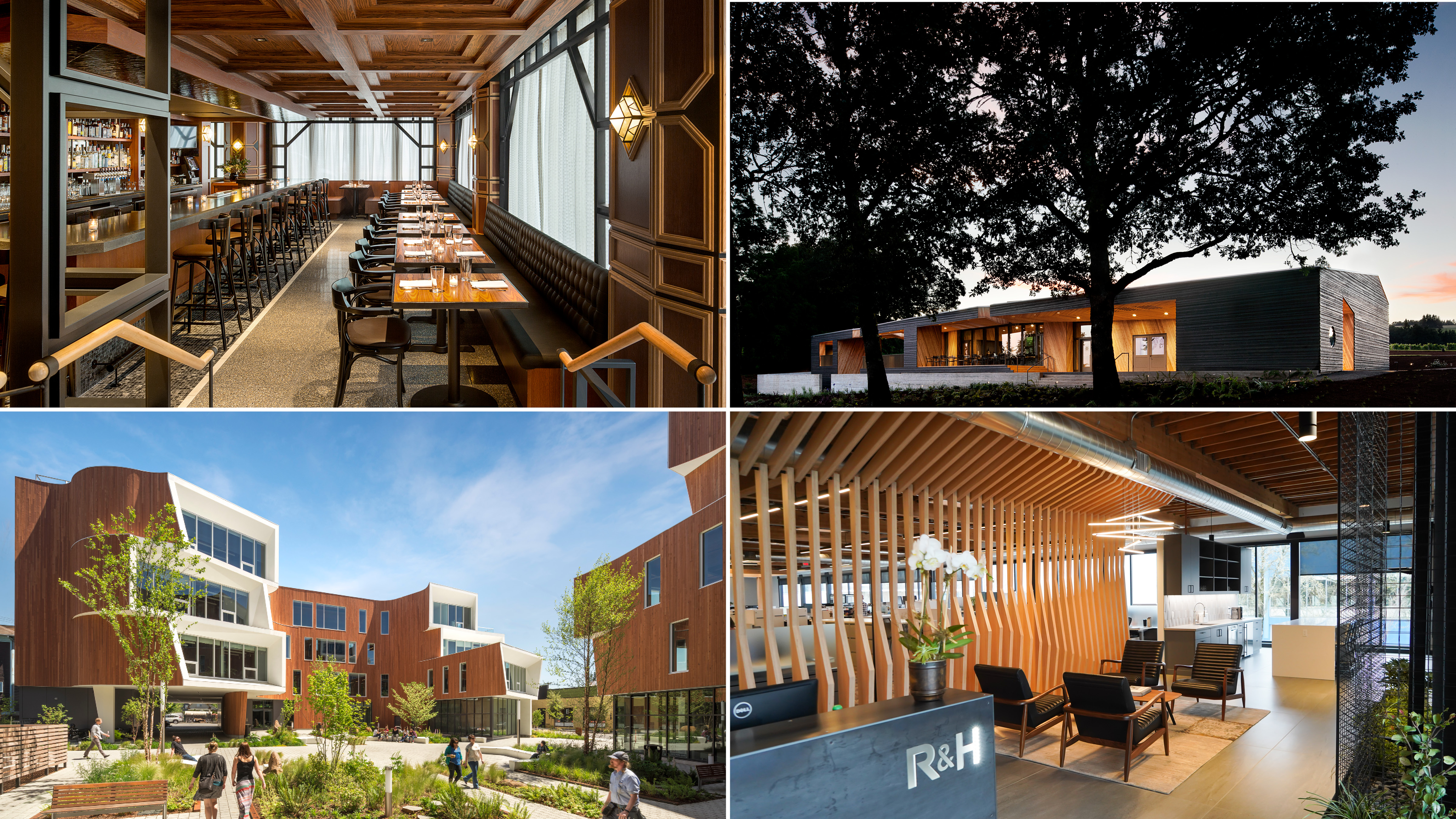 2010's
The last ten years of business have full of growth and evolution for the R&H team. R&H surpassed 150 restaurants constructed, including the buildouts of Q Restaurant & Bar, Mother's Bistro and il Solito. Other notable projects from the 2010's include Sokol Blosser Winery's Tasting Room, the buildout of Keen's Portland HQ, over 75 remodel projects within adidas Village and the construction of One North: Karuna East & West Buildings.
In the last year, we received our 15th consecutive 100 Best Companies to Work for in Oregon award, our 10th consecutive 100 Best Green Workplaces in Oregon award and our 8th consecutive Oregon's Most Admired Companies. We're honored to be recognized by such great organizations and know that it is our people that truly make R&H exceptional.
Several longstanding team members have elevated to leadership roles and became shareholders within the company in the last few years. These promotions of next generation leaders, coupled with the company's commitment to strategically plan for growth, ensures we will successfully build our projects, our team and our relationships for the next 40 years and beyond.
2019 marked a move from our SW Taylor Street location to our new headquarters in Northwest Portland. Our new space unites our office and shop together, allows room for growth and offers modern amenities like an open office floorplan, gym, outdoor patio dining, and large team meeting and social area. Later this year, R&H's Central Oregon office will relocate to a new, a larger space in a building that will allow for our operations, a very exciting move for the Bend team.
Last but not least, earlier this year, R&H launched our refreshed logo and branding, followed by a new website this summer. As we look to the future, we are grateful for our clients, business partners, friends and team members who play a vital role in the success of our business and our ability to fulfill our mission of delivering an exceptional building experience.
We Are Builders. We Are R&H Construction.
We Are Builders. We Are R&H Construction.
Want to start a project, become a subcontracting partner or explore career opportunities at R&H Construction? Reach out and we'll connect you with the right team member to follow up quickly.