It's #CareersInConstructionMonth! To celebrate, R&H is sharing a sneak-peek into some of the career paths available in our industry. From crunching numbers on estimates with Preconstruction to crafting unique spaces as Carpenter, we look forward to sharing a new Q&A each week in October. To kick off the series, meet Chet, a Preconstruction Manager at R&H.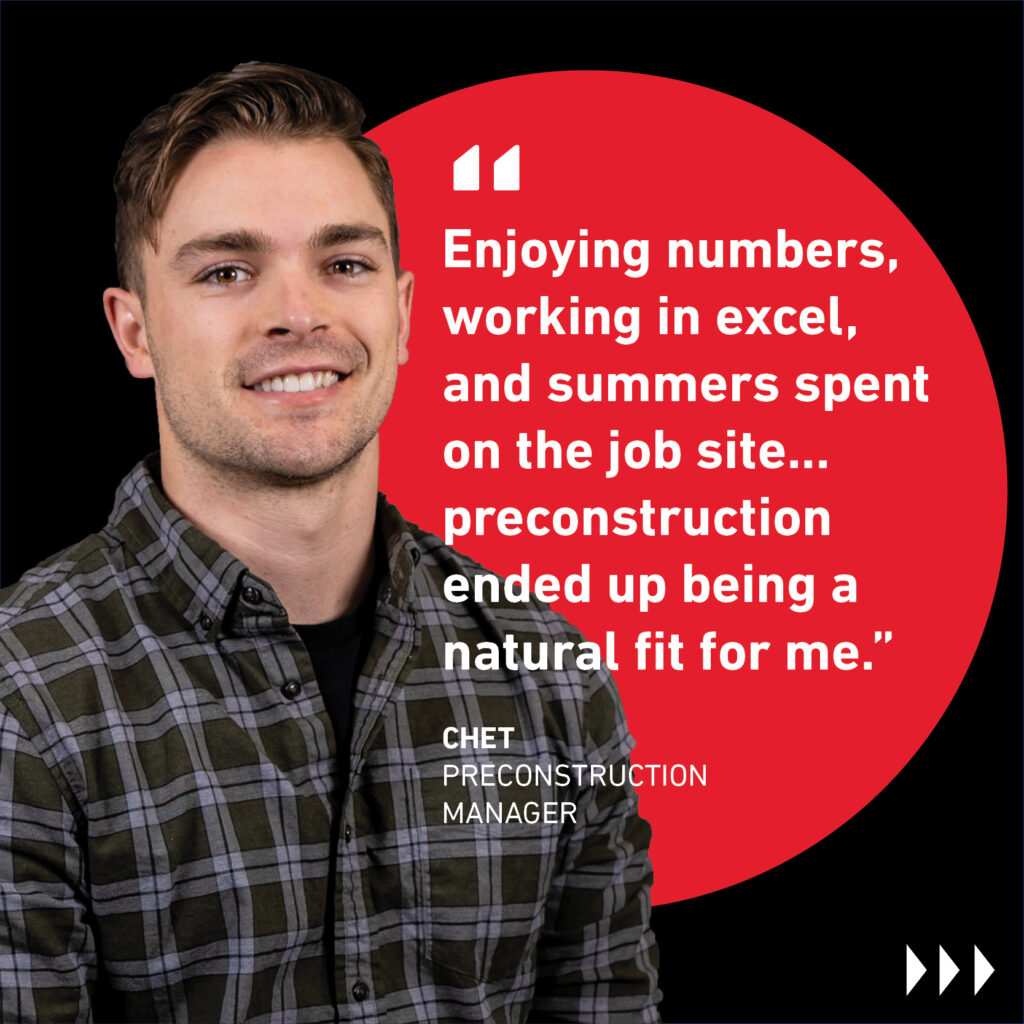 Chet, Preconstruction Manager
Portland
Q: What was your path to into the A/E/C industry and Preconstruction?
A: Before college and internships, I would work construction jobs in the summer. Both of my folks were also in the AEC industry – my mom was on the contractor side and my step-dad is on the engineering side. Based on these connections, I wanted to try and pursue something outside of construction and I tried to keep my options open by studying finance and accounting at Oregon State. After a few summer internships as a financial analyst, I realized finance didn't seem to invigorate me and I figured I would give the construction industry a try after graduation. Enjoying numbers, working in excel, summers spent on the jobsite, and physically being a part of the construction; preconstruction ended up being a natural fit for me and something I truly enjoy doing.
Q: What are the key duties of a Preconstruction Manager? 
A: There are several but here are some of our main tasks:
Giving budgeting advice
Creating high-level rough order of magnitude
Bidding projects
Engaging subcontactors for MEP design-build projects
Value engineering advice
Working with architects and engineers to meet stakeholder goals
Client relationship development
Q: What do you enjoy the most about your position?
A: I enjoy the challenge of preconstruction, helping clients meet their goals and making the most desirable decisions for the projects.  There are many challenges we are currently facing in preconstruction: overburdened workforce, a lack of personnel in the trades, unprecedented escalation, supply chain issues and increased lead times on a plethora of goods. One of the exciting opportunities we have as preconstruction managers is to strategize to mitigate these risks and create a path forward for the team prior to even mobilizing on site.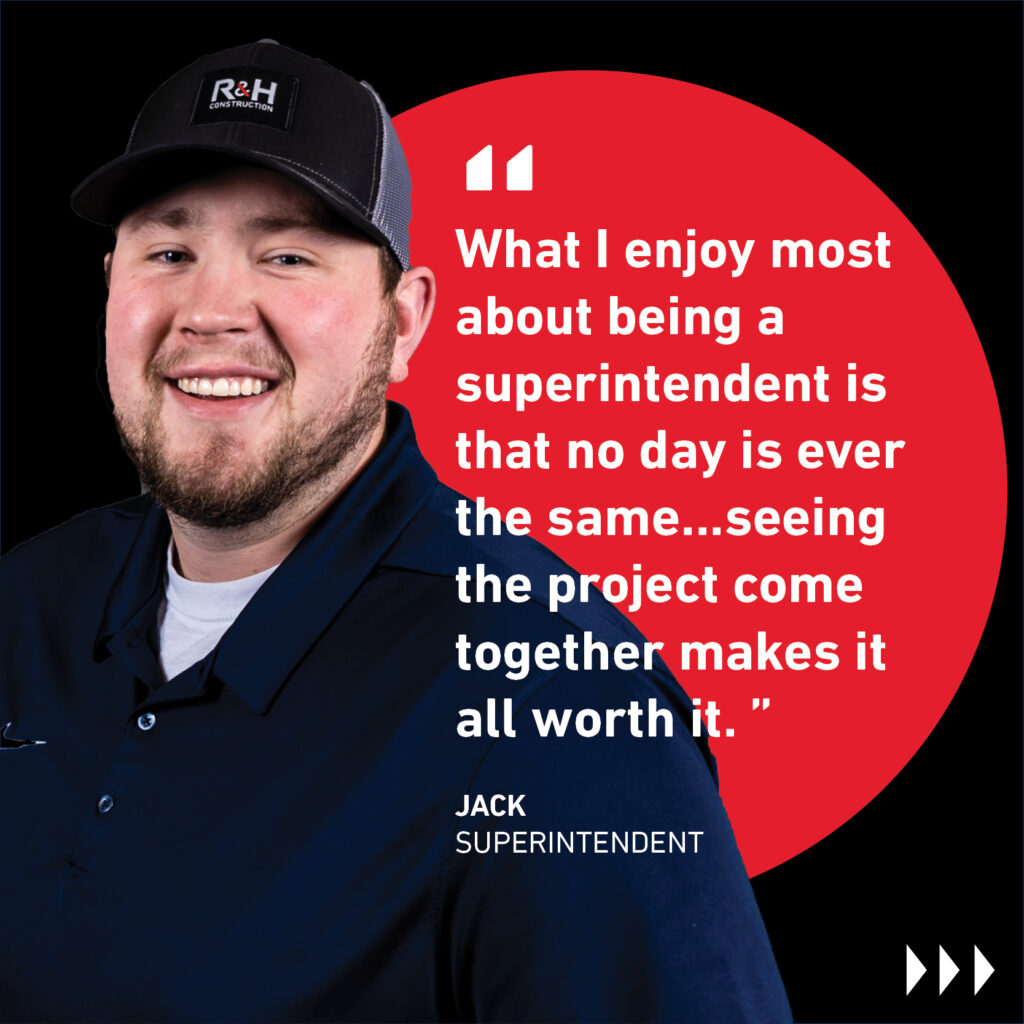 Jack, Superintendent
Portland
Q: What was your path to into the A/E/C industry and becoming a Superintendent?
A:  I worked odd construction jobs throughout high school and college. I went to Colorado Mesa University and graduated with a degree in construction management. Right out of college I started working with a general contractor as a Project Engineer. After that, I moved to Oregon and got a job as a Project Engineer here at R&H and worked my way up to a Superintendent. Since I've been at R&H, I've worked on a mix of large-scale projects like The Village at Mary's Woods, to mixed-use projects like The Canyons, Saltwood South, and Central Lofts.
Q: What are the key duties of a Superintendent? 
A: I'm currently working on Central Lofts, a mixed-use multifamily apartment complex in Portland's St. John's neighborhood. There are several duties when overseeing a project, and some unique ones when building with cross-laminated timber (CLT), but a few of them are:
Managing the project schedule
Overseeing all site activities
Managing owner expectations and communication
Subcontractor coordination and task planning
Responsible for maintaining a clean, safe and productive jobsite
Quality control
Q: What was the most unique project you've worked on so far?
A: The Canyons was the most unique job I have been apart of, as it involved using Cross-Laminated Timber (CLT). As Project Engineer, I handled all the BIM modeling to pre-drill all the Mechanical, Electrical, Plumbing and Fire Sprinkler penetrations through the CLT slabs. The CLT remained exposed in the finished units, so it was important that each penetration was in its precise location. That was a nerve-wracking task, but everything worked out like it was supposed to.
Q: What do you enjoy the most about your position?
A: I enjoy that no day is ever the same on site. You are always dealing with new challenges, and finding ways to overcome them. Seeing the project come together makes it all worth it!