Our Process
We are driven to provide proactive leadership throughout the lifespan of a project, from the initial concept phase through completion and beyond. Our team works hard to understand clients' needs with a focus on providing sound advice, cost and schedule certainty, offering transparent and open communication and unmatched local industry knowledge. Ultimately, delivering on our mission of providing an exceptional building experience.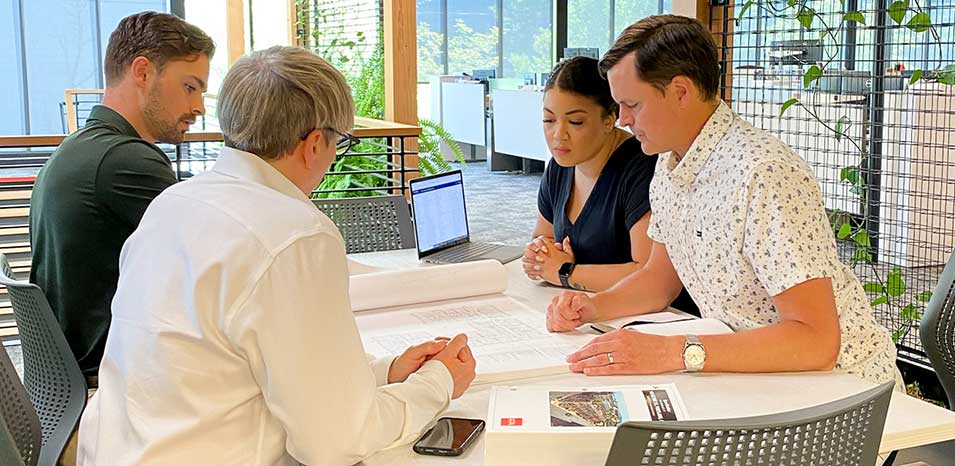 Preconstruction
The most critical element to the success of a project lies in pre-planning during the preconstruction phase. Our performance at this stage has as much to do with our success as how well we ultimately build. During this time, we build the overall project plan to successfully execute the work and achieve project goals.
R&H is staffed with a dedicated preconstruction services department that works alongside our operations team to provide exceptional service while maintaining the best overall value for our clients. We bring our project managers and superintendents on board early in this phase to promote a cohesive project team from the start and anticipate and address challenges long before they become problems. Together, this team works to identify and understand all project drivers and provides thoughtful solutions to deliver the best long-term value for our clients and project partners.
Construction
Throughout construction, our focus is on being a trusted and innovative leader for our clients and building partners, guiding the entire team towards successful project outcomes. Our team excels in developing creative solutions for the most complex construction issues, ensuring our clients' best interests are always first. Our construction services include:
Scheduling
Cost Monitoring and Control
Project Team Management
On-Site Supervision
Communications Liaison / Meeting Management
Safety Planning and Management
BIM Coordination
Quality Assurance and Control
Building Envelope Inspections
Qualified Subcontractor and Supplier Selection & Management
Self-Performance of Key Trades
Visitor and Neighbor Relations
Project Close Out and Commissioning
Post-Construction
A strong finish is critical to overall project success for all vested parties. We take project closeout seriously and understand the importance of a smooth and timely process. Drawing on technology tools that aid in an efficient punch list and training process, our team ensures performance, safety, and quality levels exceed expectations.
At the close of each project, we distribute digital operations and maintenance manuals and provide training to make sure each building operator has a full understanding of the installed systems. We also conduct one-year warranty walkthroughs, but as a contractor with a strong financial standing and that has been in business for 40 years, we are not going anywhere. Our client services department responds immediately and can service ongoing maintenance needs, both large and small.
Safety
While our commitment to safety starts at the top, safety is led by every team member at R&H and is supported by our Safety Leadership Team, Safety Department and Safety Committee. We empower our team to be the eyes, ears, and voice of safety on our project sites. Our employees well being is our motivation, but we are grateful that safe operations planning also leads to increased productivity and cost savings for our projects.
Self-Perform Craftmanship
Craftsmanship is one of R&H's core values and we are proud to have some of the industry's best craftsmen and women on our team. While R&H always competitively bids all scopes of work, we also perform work with our own forces when it is in the best interest of the project and our client to do so. A sampling of the areas of work that we perform includes concrete, wood and metal stud framing, demolition and miscellaneous finish work.
Technology & Innovation
R&H draws on technology to aide in efficiency and communication throughout preconstruction and construction. Our team utilizes numerous tools, both in the office and on our project sites, that foster collaboration, present information in real-time, ensure accuracy, and lead to greater project efficiency. From site logistics and clash detection models during preconstruction to 360 imaging, virtual tours, and LEAN construction planning methods in construction, our team engages these tools and more to drive projects forward.
Sustainability
Sustainability is woven into our company culture and impacts the way we plan, build and give back to the community we serve. Our projects have achieved some of the most rigorous sustainable building goals including LEED Platinum and Net Zero Ready and our company has been listed as one of Oregon's 100 Best Green Companies for ten years. We are committed to incorporating sustainable building methods and materials on all projects whenever possible and continuously look for ways to reduce environmental impacts through technology, material selection and reuse, jobsite recycling, and conservation.