Construction Safety Week 2022 was filled with activities, presentations and thoughtful messaging to share important safety information, reinforce safety as R&H's #1 value and keep safety practices top of mind. This year's national Safety Week theme was "Connected. Supported. Safe." From daily toolbox talks on safety and mental health to leadership video messages and onsite tool safety demonstrations, we endeavored to engage every team member and trade partner at R&H work sites from Portland and Bend. Take a look at some snapshots from the week!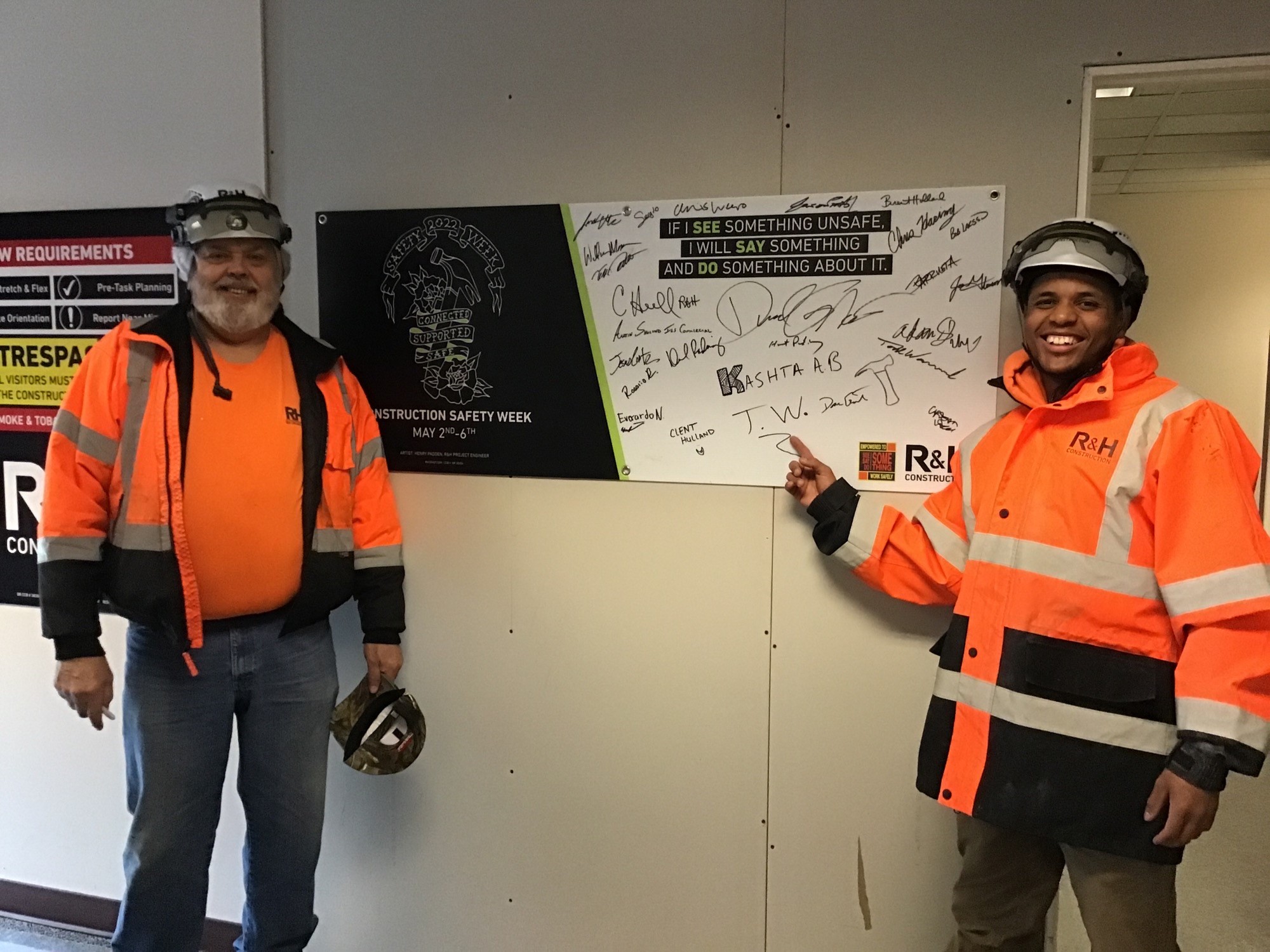 "See, Say, Do" Commitment & Banner Signing
On  Monday, we kicked-off Safety Week with a safety commitment statement and banner signing. The safety commitment stated, "If I see something unsafe, I will say something and do something about it." Each project site received a commitment banner and superintendents encouraged team members and subcontractors to sign their names, as a site wide commitment to safety. The commitment statement was a nod to R&H's historic "See, Say, Do" campaigns, which highlighted the importance of recognizing an unsafe action, calling attention to it, and taking to ensure that something is done to correct the action.
Onsite Demonstrations
Throughout Safety Week, safety and tool demonstrations were held on several jobsites across Portland and Bend. Our teams received visits from Makita, who taught lessons on how to safely and effectively use their silica tools. Our EHS team also organized demonstrations on the dangers of dropped objects and Stretch and Flex workshops put on by Work Right NW.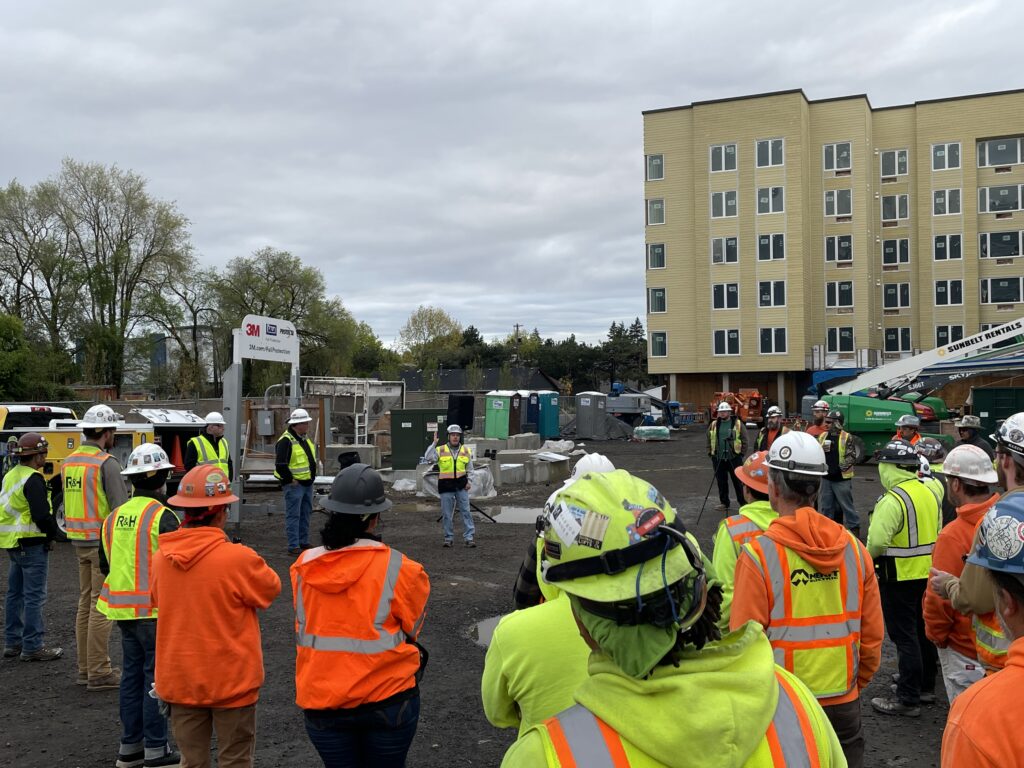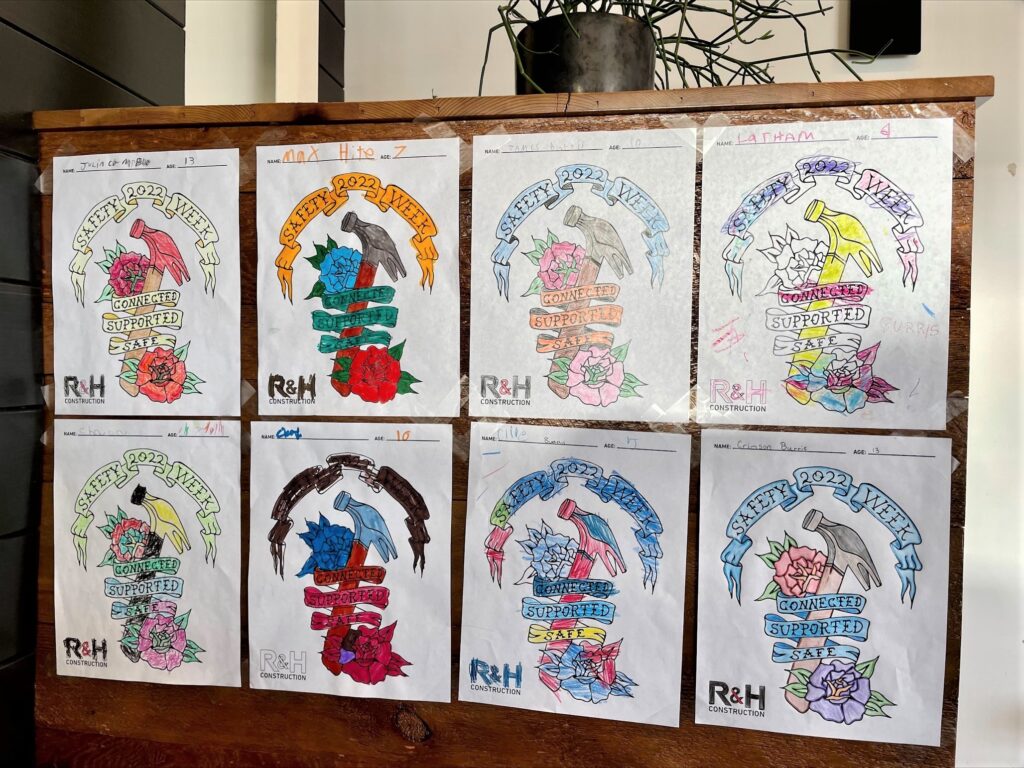 Construction Safety Week at Home
We encouraged the children of R&H employees to get involved in Safety Week at home by participating in a coloring contest. We received several fun drawings from families across our Portland and Bend offices, and it served as a reminder that a safety mindset is just as important at home as it is on the jobsite.
About our 2022 Construction Safety Week logo
This year, our Safety Week committee decided to take on our own visual interpretation of the national Construction Safety Week theme of "Connected. Supported. Safe" and partnered with one of our team members to create a custom, hand-drawn, tattoo-inspired crest. The artist, Henry Padden (Project Engineer, Bend) created the drawing that was featured across all of our Safety Week materials, including banners, t-shirts, stickers, digital communications and fun temporary tattoos.