Where did you grow up and what did you love about it?
I grew up–the youngest of three boys–in Olympia, Washington. My parents were both career educators at the high school and elementary school level. As thus, many of my early memories involve tagging along with my parents to their various extracurricular school engagements. They worked tirelessly to support us kids and give their whole selves to educating youth. Olympia is located right on the Puget Sound, and in the summer, it is one of the most beautiful places I've ever been. Walking the NW beaches, canoeing in the bays and enjoying the delectable sea fare are some of my fondest memories.
What was your first job?
My first job was fitting to the place I grew up (near Oyster Bay) which was to plant and harvest oysters and other shellfish for a local shellfish farm. I was twelve years old, and I really wanted a boom box so I could play my first CD – Kriss Kross (which consequently will make you jump, jump) – in my room. My dad told me to get a job so I could join the economy and buy it myself. I believe I made it nearly three weeks that summer getting up with the tides (sometimes at 3:50am) and mucking out clam bags and mature oysters for a friend's family shellfish farm. After those three weeks of working, the extra needs of the farm had waned, and I was able to purchase that boom box, so I decided to hang up my muck gear and retire from shellfish farming. The farm is still around, and when I am back in Olympia, my wife and I try to hit up their restaurant or pick up a bag of their oysters as a delicious treat.
What do you love the most about living in the Northwest?
I love the people of the Northwest. The pride we share in our natural resources, our beaches and mountains and rivers and water. I love how we root for our home teams and create such delicious food and beverage. On weekends, my happy place is to get a run in, or go for a bike ride, then, after burning a handful of calories, promptly balance out the caloric deficit with a few cold, fresh IPAs and some food from any of the amazing food options in the city.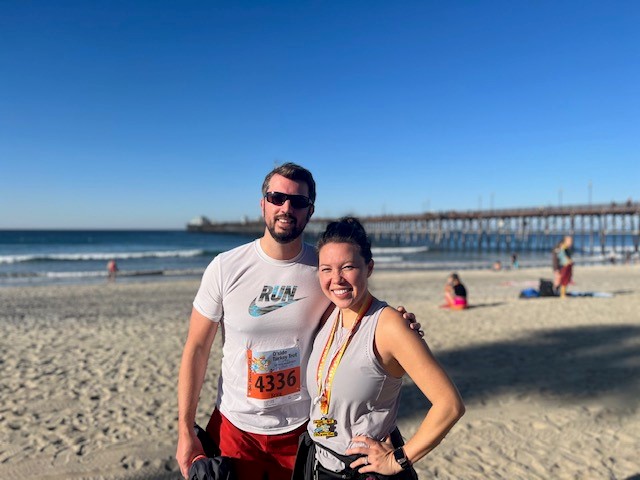 Kraig and his wife, Jenny, wrap a Turkey Trot run in San Diego, CA
Away from work, what do you enjoy most?
Aside from the exercise, eating and drinking, spending time with my friends and family is top. We like to travel with loved ones, and we have a few standing trips that I look forward to every year: going to Mexico, camping and visiting the coast which are always highlights of the season. A good group of people, lively conversation and fun games is just about as good as life gets for me.
What is your favorite Portland restaurant or watering hole?
This is perhaps the hardest question to answer. I don't really have a favorite, but many favorites in various genres depending on what we're looking for at the given moment. I enjoy a dive bar equally as much as an elevated dining experience. I love Breakside Brewery, Khun Pic's Bhan Thai which is this amazing (but somewhat hidden) Thai restaurant on the eastside, Bar Mingo, Piazza Italia, Wayfinder, and most of the Tasty restaurants. We were lucky to eat at the newer Farmhouse Thai spot in the Pearl recently, that was a trip. I had a spiced tequila drink with LED ice cubes–pretty fun– and an elevated spicy take on cup of noodles.
I met my future wife for the first time at The Spirit of 77, so that place is pretty special to me too, plus I love a good beer and a great game on the big screen. Also, fun tidbit, when the Spirit of 77 first opened, I held the record for the pop-a-shot game there for almost a year until one of the line cooks bested me in a competition. I realize that's a bit of an overt brag, but I hold that accomplishment in fairly high regards. On occasion, I can still put up a decent pop-a-shot score. Challenge me sometime to a fun competition.
What has your career path been in the industry? What aspects have you enjoyed most?
While studying Construction Management in school, I was lucky to intern with two great companies. One large international firm that was working in Bellevue at the time, and one mid-size regional company in San Jose, CA. I learned a great deal from both, but perhaps most importantly I learned that my desire to foster lasting relationships with my coworkers meant that I desired to find a great mid-size regional firm to work with, which ultimately led me to R&H.
I started as a project engineer, and embraced being onsite, trying to soak up as much of the "nuts and bolts" as I could. There's a common thread here in my career, that I was lucky in so many ways, and that proved true with the professional teams I was able to work with early in my career. I was partnered with so many of our talented team members who each imparted pearls of wisdom, trade knowledge, means and methods and best practices onto me. I have plenty of mentors in my past for which I owe a great debt of gratitude.
From there, I transitioned into the role of PM, and still preferred to be onsite, where the physical work is put in place, to maintain that connection and rhythm of the project site and project teams. After about 5 years of Project Management, I transitioned into the role of SPM, where I was now responsible for leading team relationships and developing new best practices, as well as responsible to help us secure new work and nurture client relationships. After a short turn there, timing was such that I had the opportunity to step into the Director of Operations role. I think I have said this many times, but being a part of a team of people, working in concert to accomplish a complicated and dynamic task is what I enjoy most – the great people who are intelligent, hard working and dedicated make this industry special. Then, if we're lucky enough, at the end of the day we get to enjoy the spaces that our collective efforts helped create.
What project stands out as a highlight in your career?
Ziba Design in the Pearl was an early project highlight for me. At the time, Joe Weihmann (a now retired Senior Project Manager) told me everyone gets one project like Ziba in their career, a project where design, quality and craft perfectly marry. Ziba is a mixed-use project that's primarily a completely custom, owner-occupied office space for a world class industrial design firm. They pushed the limits of sustainability at the time (achieving LEED Gold), and held themselves, our partners at Holst and R&H to the highest standards of quality and creative solutions. Their vision was to employ sustainable, natural and "simple" materials in a creative and technically challenging manner. The building had a theatre complete with auto-operating sliding wall partitions, a tricked out industrial shop, and many beautiful rooms and spaces for the clients and staff of Ziba to work and enjoy their time in the building. There are miles of reclaimed fir siding, flooring and ceiling slats in the building – all sustainably sourced in the NW from reclaimed timbers. It was very rewarding to see the finished product and have a happy client after we met that challenge.
What is a lesson you have learned through your work that has impacted your career?
One great lesson that I have learned in my career in construction is that nothing can compete with the mantra of "learn it as if you have to teach it." That concept applies to nearly everything we encounter in our industry, from a journey-level carpenter being thoughtful with how they take ownership over training an apprentice, to an estimator knowing where every dollar is in the budget to help a client make sound decisions. When you prepare like teachers do, learning not just the "how" to do something but also the "why" and the best way to explain it to others, you can become a master at the task or craft you're looking to learn.
Are there any specific lessons learned that came from the jobsite?
Preplanning is everything. Craftspeople put work in place like master chess players move their pieces. The great ones are thinking many steps into the future. Proper framing layout ensures more seamless and efficient erection and built-in safety. Planning your tile layout to minimize cuts and maximize aesthetics saves tile and avoids slivers. There are thousands of "moves" to put together a well-executed project, and the best at it are thinking months down the road and planning away problems before they manifest, just like the chess player knows the likely outcomes of their maneuvers.
Safe work practices are vital to successful projects. What do you do to keep your team safe?
In the last several years, I have learned many new lessons on how to support safe work from our field team members and our Environmental Health & Safety (EHS) department. I have learned that safety is a mindset, it's a learned behavior and you need to believe in safe work practices whole heartedly to be safe in your work. There's plenty of data out there to support that accidents happen when we let our guard down, at the start of a shift, or the end of the week before a holiday. Or when we take a work task or activity for granted, so we've been working to promote that awareness and to hopefully get in the minds of our trade partners and our craftspeople that safe work follows that safety mindset. We've been doing our best to share this data and promote the safety mindset through intentional safety planning, safety engineering and supporting safety education. We're working on programs to encourage heightened safety planning with our trade partners as well, attempting to lift some of the burden of safe planning and readiness review from our field teams who have plenty to organize and manage already. Safety starts and thrives in the field, and we're lucky to have excellent field leaders and team members who want to work safely and are helping lead with a safety mindset.
Groundbreaking at the Barbara Walker Crossing pedestrian bridge over West Burnside in Portland
The last couple years have been challenging for all and in particular the construction industry. How do you feel R&H has weathered these times?
I think more important than how I feel, or how the executive team feels is, how does the entire R&H team feel we have collectively done to weather these times? I've seen feedback from team surveys that indicate that most our team members believe the company's response to the pandemic was very positive. For me, a bright spot of the last two years has been our collective response, and our togetherness to endure and do some really great work during these unprecedented times. Our craftspeople, trade partners, foremen, superintendents, project engineers and many project managers never left their posts onsite, and we all did whatever we could to keep our teams safe and continuing to build during the pandemic. Our Human Resources and EHS departments helped create some industry leading controls and processes, we had thoughtful COVID guidance in place on our jobsites before the OHA and OR-OSHA created content to guide us. We kept on top of the ever-changing requirements, were steadfast in our diligence to mask, and test and record and distance and contact trace – a lot of effort – which hopefully resulted in fewer exposures. Looking back, between the last two years we were able to safety execute over $450 million in work for our clients and find innovative ways to show appreciation to our team. Most importantly, we maintained our value to our clients, and have opportunities in the coming years to continue growing those key relationships with our clients. We have weathered, and we are ready to have a strong 2022. Again, so much of the credit here goes to our HR team, EHS group and our field crews for their patience, diligence and discipline.
What is your outlook for 2022 and beyond for R&H Construction?
While we are not without challenges, 2022 and beyond look to have an excellent prognosis. We have record under-contract backlog for 2022 and continue to see solid future work pursuits across all markets and divisions. We are working on execution, doing what we know we can do well even better. We have brought on a few new team members, and we want to elevate our training and growth for all existing team members. Finally, we want to celebrate our ability to get back together as a team without fear of breaking rules or endangering people. Once the experts feel we can safely drop the mask mandate and get our teams together en masse, we plan to bring back so many of the things that made R&H such a special place: jobsites BBQs, field day, team lunch challenges, happy hours and more. Personally, I'd like to get a cornhole tournament on the books for this summer (or maybe pop-a-shot?).
What market sectors are you seeing the most strength in currently and do you anticipate any changes in this over the next two years?
Industrial, mixed-use multifamily and affordable housing are currently strong markets in Portland and Central Oregon and look to continue to be strong markets for the foreseeable future. Housing remains underbuilt in Oregon, especially affordable housing. Commercial office is rumored to be in a position to pivot, which means a lot of traditional office spaces may be modified to accommodate new working norms. Hospitality and retail are poised for a strong recovery post pandemic. We have a presence in all these markets, which means solid opportunity for us to connect our value to our clients in the marketplace.
Longevity in career is strong at R&H. Why do you feel team members choose to spend the greater portion of their careers with the company?
I can share what I have heard from many who have been with us for 10 years, 20 years and even longer. Generally, it boils down to that fact that we like what we do and who we do it with. That, coupled with our best intentions to staff projects appropriately and encourage our team members to work hard while they are on the clock then go have lives outside of work, keeps us fresh and energized to come back the next day, or week or year, or decade.
What goals do you have for the year ahead for the company and yourself as you transition to your new role as President?
For R&H, executing exceptional building is my primary goal. We want to do that by getting back to the "basics" of construction; safe and effective field execution, industry leading communication, disciplined thoughtful controls and management, and instilling confidence and fun into the construction process. Our initiatives this year revolve mostly around better executing our value proposition, aligning our strengths to our project pursuits, delivering exceptional preconstruction and construction services and celebrating our success. If the prior is goal 1a, goal 1b is to develop cross functional and cross departmental teams to go execute on these initiatives; building stronger interpersonal working relationships in our company will only help us deliver on our mission with greater enthusiasm.
Personally, I would like to continue to grow my connection with our team here, as I will be working with many people in a different capacity. Strengthening my professional and personal relationships with the shop teams, carpenters, foreman and supervisors, EHS, accounting and HR teams across our company will be a big focus of mine. We have so many great team members and talented individuals at R&H, I want to build those relationships and ultimately strengthen our culture and teamwork. We need each other to have the success we want to have, and it's more fun working in a group, supporting one another than facing the challenges of our craft working alone.
Community is one of R&H's core values. What does that mean to you?
Community is the people you choose to have in your life, meaning your immediate cohorts – friends, family, and co-workers that you regularly interact with and share your whole self with. There's also community in the broader sense, meaning the place you choose to live, made up of people and places around your neighborhood and where you choose to work and play. We need both to thrive, but you absolutely need the prior. You get from your community what you put into it, and that's true of all relationships. When you decide to participate actively in your community and take on the challenge of building it to be as great as you can muster, if you're lucky, that's when special things happen and you get a whole new level of contentment and satisfaction in return. What you give to your community, you also get back. As I mentioned earlier, that's why I enjoy my career here at R&H, the community of people, including our clients, subcontractor partners and all stakeholders are solid people, good Oregonians and fun to be around.