Located directly across from Montgomery Park in NW Portland, the Redfox Commons project involved the conversion of two 1940's era warehouses, known locally as The Old Freeman Factory, into an industrial, yet modern creative office space. R&H collaborated with Langley Investment Partners and LEVER Architecture to bring the vision for the project to life.
QUALITY & CRAFT
During the first phase of the project, heavy timber was salvaged from the original buildings in order to create a new bridge and entryway atrium to unite east and west buildings. As a nod to the building's history, the salvaged lumber was sandblasted and remained exposed.
The façade and roof are clad in COR-TEN, or weathering steel. This exposed material eliminated the need for painting the exterior of the building, and instead formed a rust-like appearance. Both the exposed wood elements and unique weathered exterior highlight the natural beauty of the building while also complimenting the neighborhood's rich history.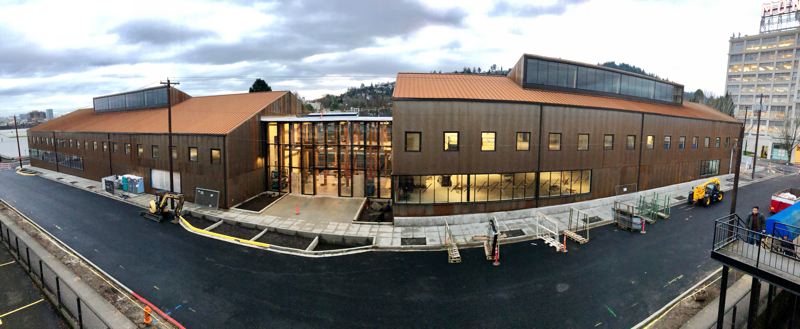 CHALLENGES
Early in the project, crews managed a complex demolition of the structure connecting the two warehouses while protecting the integrity of the overall buildings that were being preserved. As part of the design team's vision to repurpose the original structure, much of the old-growth timber was salvaged and stored to be repurposed as exposed columns and beams that fully embrace the industrial character of the neighborhood. The 1940's buildings needed to be structurally upgraded to meet current building code requirements which posed safety challenges, including mitigating the risk of building collapse. By utilizing a combination of scaffolding and burke braces to safely support the structure in sections, our project team was able to demolish and immediately replace old framing elements to ensure the integrity of the structure during construction.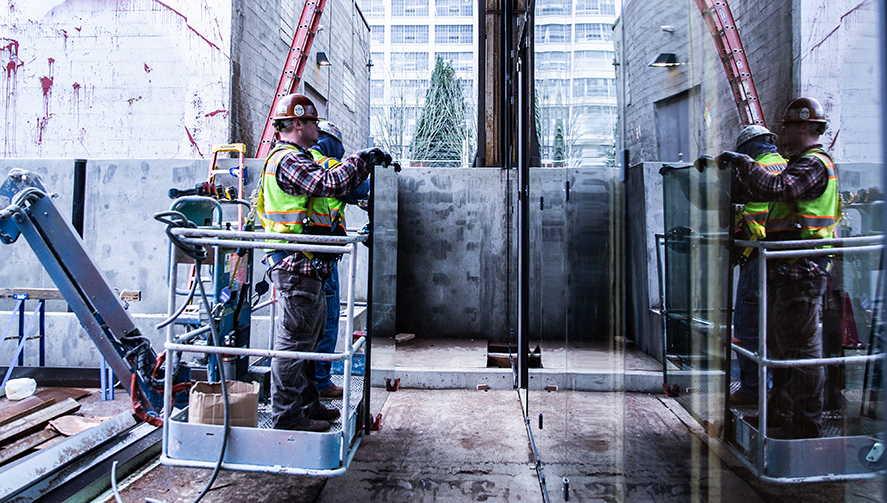 Unifying the buildings via a connection bridge posed the challenge of installing a pre-fabricated bridge structure within an existing building. Our onsite management team developed a plan to swing the bridge into the west building via crane and then carefully rolling it into place in one piece. This approach avoided having to assemble the bridge within the tight quarters of the building, which was also an active construction site.
Now complete, Redfox Commons is one of the most recognizable creative office spaces in NW Portland. This project will surely become a trademark site in Portland's largest industrial areas.