October is #CareersInConstructionMonth and we're taking this opportunity to dive into a few select roles at R&H to showcase the career pathways available in the industry.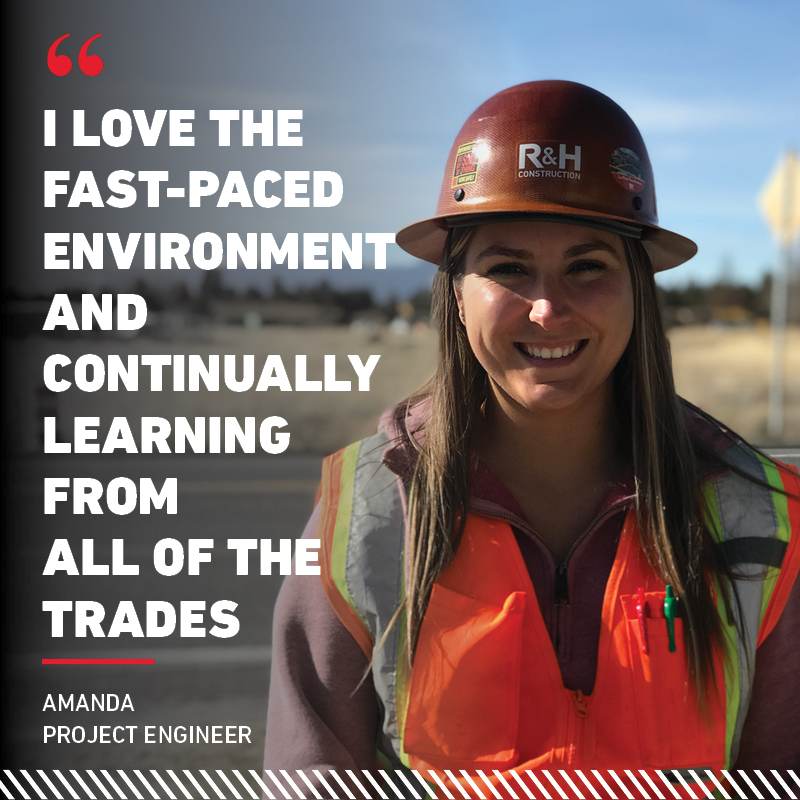 Amanda, Project Engineer
Central Oregon
First up, we're featuring Amanda, Project Engineer. Currently, Amanda is working on several projects throughout Central Oregon including, Red Canyon Redmond, a 67-unit affordable housing project with Housing Works and Pinnacle Architecture. Located in an established, multi-family neighborhood, less than a mile from elementary and middle schools, grocery stores, restaurants, and other resources, Red Canyon includes 10 buildings consisting of one, two, and three-bedroom units spread across two sites just 300 feet apart. This housing development not only provides much-needed housing options for low-income families, the sites also include community rooms, fire pits, playgrounds, covered entries, patio decks, storage, and available parking. Amanda has been a part of 6 Housing Works projects with R&H.
It's impossible to sum up a day in the life of Amanda, but if we could try, it's two words: Document Control. As Project Engineer, Amanda makes sure all project team members have the most up-to-date information throughout the life of the project, through construction software and on the field. This information includes documents such as project revisions, proposal requests, and submittals. Sometimes, this can mean making sure over fifty workers are informed.
Amanda started as a Project Coordinator in the construction industry. Her path took her through several assistant project and project management roles before landing where she wanted to be at R&H. Amanda loves the fast-paced environment, stating "It keeps me on my toes!" She enjoys working with members of all of the industry trades and is always learning something new. Her biggest challenge? You can never know enough! There is always something to learn. "but it never slows me down from asking questions and searching for the answers."
Kashta, Carpenter Apprentice
Portland
Next up, we're highlighting Kashta, a Carpenter Helper from our Portland team. Kashta has been with R&H for 2 years, and is currently working on Nomad Apartments, a seven story 130-unit, mixed use building in North Portland in partnership with Ethos Development LLC and Works Progress Architecture. You can take a look at recent progress on the 83,000 s.f. project here.
As they near completion at Nomad, some carpentry tasks range from sheathing, framing and demolition, to installation of appliances and updating punch-lists. As a Carpenter Helper, Kashta is responsible for supplying tools, facilitating materials to the jobsite, and housekeeping items that ensure the jobsite is safe and hazard-free, while also assisting and learning from experienced carpenters. We asked Kashta what he loves most about his position. Here's what he had to say: "Being an apprentice, I love learning new things. From rough carpentry work, to walk-throughs with owners of buildings, seeing first hand from both of those perspectives, and everything else in between. There's so much to learn!"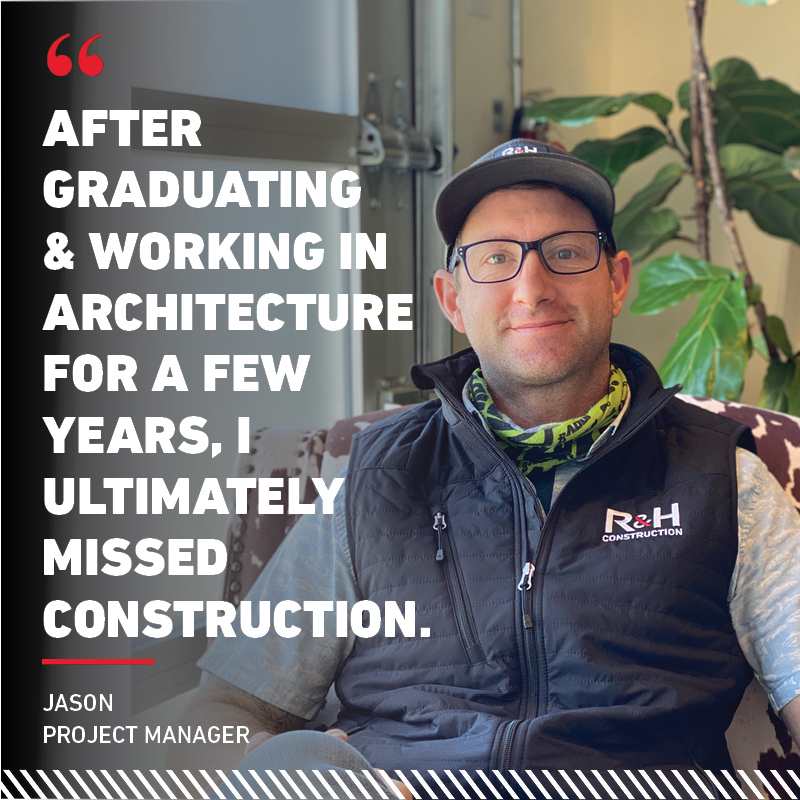 Jason, Project Manager
Central Oregon
Continuing our journey, we're highlighting Jason, Project Manager. Jason began in the construction industry working for his girlfriend's dad during high school in the mid-'90's. After graduating, he spent a year as a carpenter's apprentice before spending a few years exploring other trades such as concrete, excavation, and painting. He settled into residential carpentry and spent almost a decade framing and working as a finish carpenter. Jason moved into management and spent several years as a site superintendent before deciding to go back to school for a degree in architecture. 
After graduating from the University of Washington, Jason worked at an architecture firm for a few years. "Ultimately, I missed construction," Jason said. He went back to construction, this time as a Project Manager "and never looked back". His family moved to Bend in 2015 where he started his own residential design/build company and continued this until joining R&H earlier this year. Jason sees himself as part of the R&H family for many years to come. 
As a Project Manager, Jason's top two favorite aspects include collaboration and problem-solving. "Every day we are faced with items that need to be explored/researched/resolved. With the right team, it can be pretty exciting." He explains Project Management in construction is about risk management and field support. A Project Manager's key objectives are to be well-versed in the project, maintain constant communication with the Client, Architect, and Site superintendent in order to foresee and avoid unnecessary costs and added durations, manage budget and scope changes, and most importantly make sure the field management and crews have everything they need to be successful. When asked what the most challenging side of Project Management can entail, he said it's the unforeseen. "We do our best to understand our project documents, ask questions, and plan ahead, but inevitably something is going to catch you off guard. Sometimes it's small, other times it's not. I spend a ton of time trying to think about what I'm not thinking about"
Jason is currently working on several projects including the Aquatic Center at the Cove in Sunriver Resort. This second phase to the Sunriver Cove pool and recreational area (a past R&H project) includes a 10,000 s.f. enclosed addition featuring an indoor pool, water slide, lazy river, and roll-up doors for those sunny Central Oregon summer days. He is also Project Managing a 6,500 s.f. architecturally inspired custom residence close to the Deschutes River in Bend.
Jason, Superintendent
Portland
Next, we're featuring Jason, Superintendent. Currently, Jason is working on Holden Creek Village, a 60-unit affordable housing project in Tillamook, Oregon in partnership with Northwest Oregon Housing Authority and Kemper Co LLC. It is a three-acre building site consisting of four two-story townhome structures and three three-story flat apartments, totaling over 53,000 s.f. of total unit space, and will provide much-needed housing options for low-income families in the area. Jason has been a part of four large-scale affordable housing projects at R&H–totaling over $24 million in contract value. As a Superintendent, Jason is responsible for leading all onsite activities and keeping the jobsite safe and organized. He's also responsible for planning, scheduling, and communication between team members, subcontractors, clients and partners.
We asked Jason about his path to becoming a Superintendent. He was preparing for an architectural drawing career in high school when he was "told to put down the pencil and learn to draw with AutoCAD," towards the end of his Senior year. He found himself uninterested in that shift, and was uncertain about what to do after graduation. His path took him to a summer temp job with Clackamas County road division, then as a laborer for a spec housing general contractor where he started to enjoy his daily work. He moved on to pouring concrete for one of the general contractors' subcontractors where he worked for around 10 years before getting his Journey-Level Carpenter certification. Over the past 15 years at R&H, Jason has moved from Journey-Level Carpenter to Foreman to Assistant Superintendent and finally to Superintendent. "People," is his response to what he loves most about being a Superintendent–he's kept his answer the same throughout his career. He enjoys connecting with a team working towards a common goal to finish a project. His biggest challenge? Occasionally, also people.
Raul, Project Engineer
Portland
Last but not least is Raul, Project Engineer from our Portland team. Raul has been with R&H for a year, and has been working in the industry for nearly seven. Currently, Raul is working on Saltwood South Apartments, a six-story, 177-unit mixed-use multifamily housing project in Portland, Oregon in partnership with SERA Architects and Prometheus Real Estate Group Inc.  As a Project Engineer on the Saltwood South project, his daily tasks involve coordinating scope of work with site plans and helping find solutions when issues arise. Project Engineers are also responsible for assisting the Project Manager and Preconstruction Manager by processing RFI's and making sure that communication is consistent and complete.
Raul said that although he pursued a degree in Construction Management from Oregon State University, there are several pathways to become a Project Engineer. When we asked what lead him to choose his current role he said, "My interest in construction and how much coordination is involved in every step to make a building resemble the architects dreams. Sometimes it may seem like swinging a hammer around in the air gets a building constructed, but there are several construction trades involved in just about every bit of a building–and every decision is important."
What Raul loves most about his role as a Project Engineer? Learning industry knowledge, construction techniques and how each trade does their job to see the project to completion. "I also enjoy seeing otherwise slow neighborhoods evolve into bustling atmospheres for families to enjoy."