THANK YOU!
Thank you to our friends, clients and community for supporting The Art of the Craft: An R&H Artisan Auction. With your help, we were able to rise over $10,000 for Heart of Oregon Corps and Girls Build, two nonprofits elevating trades education in Oregon! To those that purchased items, made donations or simply shared our posts – we couldn't have done it without you. A special thank you to all our talented artisans for donating your time and talents to make this auction possible.
Meet Our Artisans
Behind the craftspeople that make R&H the company it is today, lie true artisans with a multitude of talents. This holiday season, we celebrate the art of the craft with a collection of items hand-crafted by R&H team members. From hand turned wine stoppers and a custom forged chef's knife to the construction of an Adirondack chair made exclusively of a conditioned wine cask, our artisans provide a glimpse of the tremendous talent R&H team members hold, at work and beyond!
About the Auction
From December 6th through 10th, over twenty exceptional items, hand-crafted by R&H artisans, will be available to view and bid on through our online silent auction event. 100% of the proceeds will be donated to two non-profits dedicated to elevating trades education in our community: Girls Build (Portland) and Heart of Oregon (Bend). We invite you to join us in celebrating the art of the craft, further education opportunities in the trades and give back to the community we call home.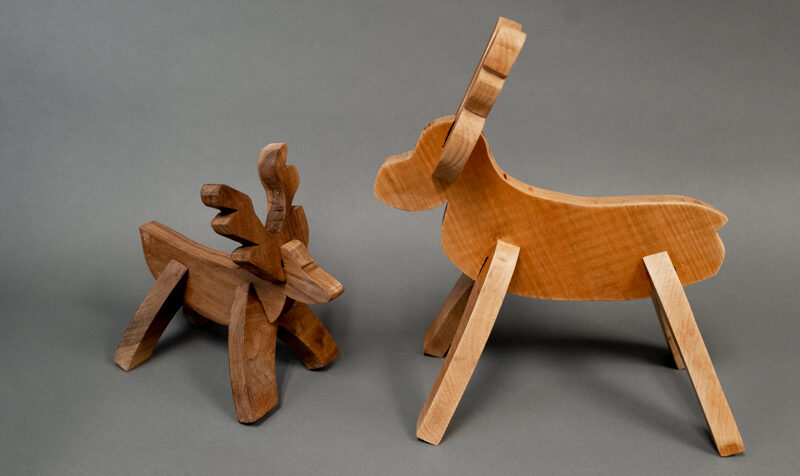 Preparing for the Auction
Ready to bid? There are a few optional steps you can take before the auction opens to ensure you're ready to dive in on December 6th.  Prior to auction opening, interested bidders can preview the auction site and register themselves as a bidder. While a credit card is not required to register, one will be required to place a bid. Our auction platform, Handbid, also has a mobile bidding app available for iPhone and Android. Bidders can use the app to pre-register before the auction opens and to place bids throughout the auction. Both the website and mobile app provide options for bid reminders, notices of being outbid and more.

See what happens when you place a tool in a child's hand and give them the skills to use it. Girls Build is a non-profit organization based in Portland, OR, inspiring curiosity and confidence in girls through the world of building. They currently empower girls in Southern Oregon, Portland, the Oregon coast.

Heart of Oregon is a Central Oregon based non-profit that engages local youth by providing job skills training, education and leadership development to young people who face major barriers to success. The organization aims to empower youth to believe in themselves and achieve self-sufficiency.